Events timed to the 101st anniversary of the Ottoman-era Armenian Genocide and highlighting humanitarian issues as part of the Aurora Prize initiative have been on in the Armenian capital of Yerevan since April 22.
Within the framework of the initiative, Armenia has been visited by some leading international scholars, media experts, humanitarians and activists, including renowned Hollywood actor and producer George Clooney, who is a co-founder of the Not On Our Watch humanitarian initiative.
The award to be given to one of four finalists tonight bears the name of Aurora (Arshaluys) Mardiganian. As a child, during the years of the Armenian Genocide, she witnessed the murder of her father and brothers. Aurora survived through all dangers and told the world about the atrocities that occurred in the Ottoman Empire in 1915.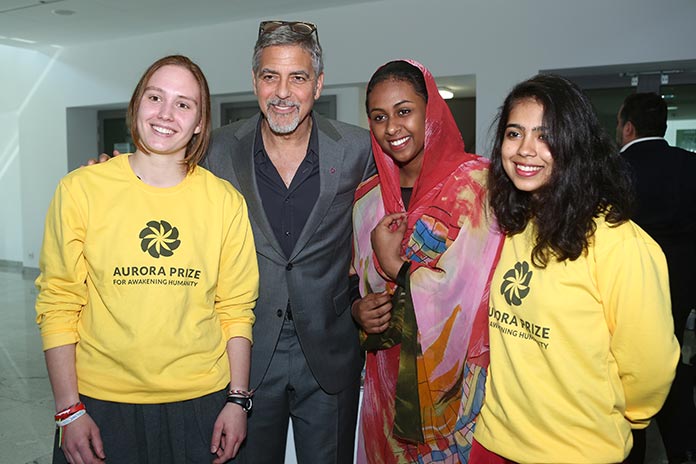 The Aurora Prize was established within the 100 LIVES initiative. The initiative began in March 2015, the year of the Armenian Genocide Centennial, to express gratitude to individuals and institutions whose actions helped Armenians survive the Genocide 100 years ago.
Honoring survivors and their savors, the 100 LIVES founded the Aurora Prize for Awakening Humanity, as a way to support present day savors, according to courage, dedication and impact criteria.
"Within the 100 LIVES [initiative] we collected stories of the survivors of the Genocide and presented them. These are stories in which family members tell about their salvation. We have also taken the initiative to digitize archival documents. Unfortunately, not many documents on the Armenian Genocide in the Ottoman Empire have been found, but we will keep the ones that exist for generations to come," Ruben Vardanian, an entrepreneur and co-founder of the Aurora Prize, said at the opening of the Aurora Dialogues forum.
Prize Selection Committee member Clooney stated that the Armenian Genocide is the pain of all humanity.
"We see that a long struggle is underway to reach the point that everything will be named accordingly. We see that steps are being conducted to call the Armenian massacres a genocide, however, they are being done very slowly, this struggle continues longer than it should be," said the 54-year-old actor and activist.
The four Aurora Prize finalists have named the organizations they nominate to receive the $1,000,000 award should they be announced as Aurora Prize Laureate at the inaugural Aurora Prize Ceremony tonight. In addition, a personal $100,000 grant will be given to the Laureate.