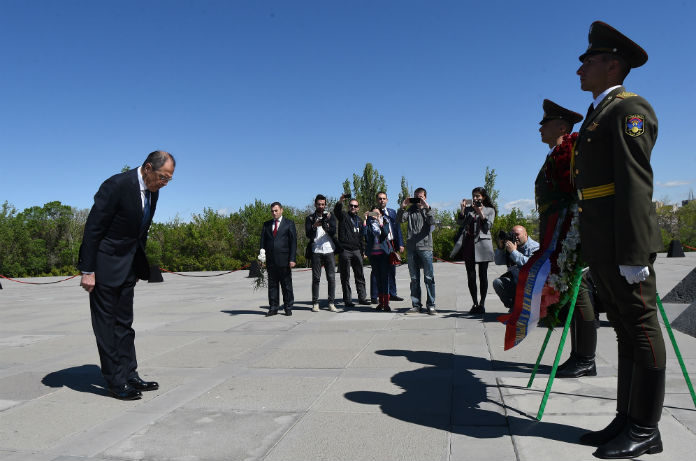 Unlike last year's 100th anniversary of the Armenian Genocide, this year there is less international attention to the commemorations being held in Yerevan on the 101st anniversary of the Ottoman-era massacres.
As for U.S. President Barack Obama, the expectations of Armenians and, in particular, American Armenians have not been justified, either, because as president he missed his last chance to utter the word "genocide" in his statement on April 24.
However, United States Ambassador to Armenia Richard Mills believes that Obama has given the necessary assessment.
"I think that President Obama made a very strong and powerful statement, qualifying the incidents as one of the worst atrocities in the 20th century," Mills told media at the Armenian Genocide Memorial in Yerevan today.
"President Obama remains faithful to the commitment which all of us seek: full, complete and fair recognition of the events. The U.S. president continues to remain faithful in working in this direction, so that the events are recognized in a full and complete manner," the diplomat said.
According to the ambassador, Obama's objective is the truth and reconciliation between the two societies of Armenia and Turkey. Mills said that the U.S. president remains faithful to this commitment, rather than tries to avoid deteriorating relations with Turkey.
Russian Foreign Minister Sergei Lavrov, meanwhile, used his opportunity of being in Yerevan on an official visit on April 22 to visit to the Armenian Genocide Memorial. Accompanied by his Armenian counterpart Edward Nalbandian, the top Russian diplomat laid a wreath at the monument of innocent victims, placed flowers near the eternal flame, and visited the Armenian Genocide Museum-Institute.
"Thanks to everyone who keeps this memory alive and does everything so that the tragedy of the Armenian people is not forgotten. We need to make sure that such things never recur," wrote Lavrov in the honorary guestbook of the museum-institute.
The governments and parliaments of nearly three dozen nations, including Russia, France, Germany, Brazil, Italy, Canada, Argentina and others as well as 44 states of the United States have recognized the mass killings and deportations of Armenians in the Ottoman Empire as a genocide. The government of Turkey, however, refuses to acknowledge the crimes committed against Ottoman Armenians.