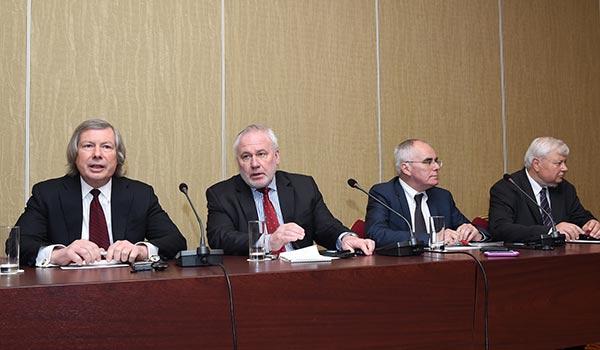 International mediators brokering a solution to the protracted Nagorno-Karabakh dispute believe that the parties to the conflict are ready to observe the ceasefire that was tentatively reached after several days of intense fighting earlier this week.
The Russian, American and French co-chairs of the OSCE Minsk Group spoke at a press conference in Yerevan on Saturday after completing their tour of the region that also included stops in Baku and Stepanakert.
The Russian co-chair of the group, Igor Popov, said that it was not part of their mandate to investigate which party was responsible for renewing hostilities in Nagorno-Karabakh that killed scores of soldiers on both sides as well as a number of civilians on April 2-5.
"Our main task was to help the sides stabilize the situation as well as take measures to preclude further military actions," he emphasized.
Earlier, meeting with the mediators, Armenian Foreign Minister Edward Nalbandian accused Azerbaijan of delivering a serious blow to the peace process by unleashing aggression against Nagorno-Karabakh and called for "urgent steps" to stabilize the situation.
The mediators' visit to Yerevan took place against the background of demonstrations staged by mostly young people who called on the international community to condemn Azerbaijan's aggression and crimes against Nagorno-Karabakh. In front of the Russian embassy in Yerevan the demonstrators also demanded that Russia stop arms supplies to Azerbaijan.
Azerbaijan used some of the deadliest weapons of Russian make, including the TOS-1A heavy flamethrower system and the Smerch heavy multiple rocket launcher, against Karabakh's military and civilians in the recent clashes in the conflict zone that proved to be the worst since the 1994 ceasefire.
Concerns about the deliveries of Russian lethal weapons to Baku were also raised by Prime Minister Hovik Abrahamyan who spoke to media on a visit to Gyumri on Saturday.
"Our people, indeed, feel pain that the Russian Federation sells weapons to the Azeri aggressor. This is a bad thing. We have said that we take it badly and consider it not right when our strategic partner sells weapons to Azerbaijan. But it is their business, it is for them to decide," Abrahamyan said.
The Armenian prime minister's criticism came almost simultaneously with remarks by his Russian counterpart Dmitry Medvedev who, in an interview with the Russian State TV's Vesti v Subbotu program, in fact, defended Russian arms supplies to Azerbaijan.
Medvedev, in particular, stressed that Russia's arms deliveries to both Armenia and Azerbaijan are based on agreements in the military-technical sphere.
"For Armenia we are also a Collective Security Treaty Organization ally. But we all have interstate relations and they are based on agreements, including on cooperation in the military-technical sphere. If we imagine for a moment that Russia gives up this role… we understand well that this vacuum will be filled. They will buy weapons in other countries and the lethal degree of these weapons will not decrease," he said, stressing that such a situation could also "shatter the balance".
"I believe that weapons can and should be purchased not only for the purpose of using it, but also as a factor of deterrence, and this is what all sides of the conflict should appreciate," the Russian prime minister concluded.
Earlier, Medvedev's deputy Dmitry Rogozin, who deals with Russia's military and industrial complex affairs, stated that Russia will continue delivering weapons to Azerbaijan and Armenia.
In recent years Russia has supplied Azerbaijan with weapons, including offensive types, worth an estimated $4 billion.