One Armenian serviceman was reportedly wounded overnight as a result of continued Azeri violations in the Karabakh conflict zone. The April 5 ceasefire agreed by the conflicting parties after a major outbreak of hostilities earlier this month has, however, largely held.
According to Nagorno-Karabakh's Defense Ministry, the Azerbaijani side committed 106 violations on the night of April 13, as the "operative situation" at the line of contact between the Karabakh and Azerbaijani troops remained unchanged.
In committing the violations Azeri troops reportedly used sniper rifles and grenade-launchers.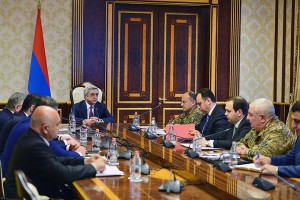 "For the stabilization of the situation the advanced units of the Defense Army retaliated 23 times… The Karabakh forces continue to closely follow the situation on the frontlines and resort to counteraction whenever necessary," the Defense Ministry said.
The situation in Nagorno-Karabakh where scores of Armenian and Azerbaijani soldiers were killed and wounded in the April 2-5 clashes was also discussed at a meeting of the National Security Council of Armenia invited and chaired by President Serzh Sargsyan late on Tuesday.
"At the meeting, discussed were measures to be taken resulting from a blunt violation by the Republic of Azerbaijan of the 1994 Ceasefire Agreement, a large-scale offensive against the Nagorno-Karabakh Republic, and use of force against the civilian population," the Armenian president's press service said.
"Members of the Security Council made reports. It was noted that during the military actions unleashed by Azerbaijan, the Republic of Armenia Armed Forces fulfilled their task. The NKR Defense Army was victorious in thwarting Azerbaijani aggression and frustrating its plans. With regard to the discussed issues, President Serzh Sargsyan gave corresponding instructions."