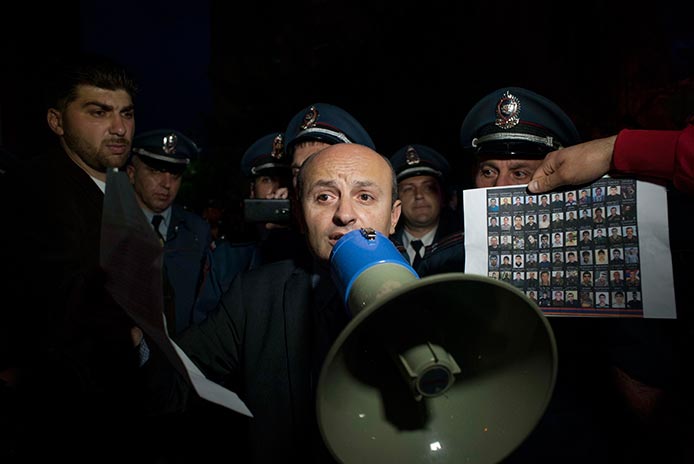 The recent hostilities in Nagorno-Karabakh unleashed by Azerbaijan have become another reason for Armenians to raise the issue of strategic ally Russia's arms supplies to their regional archrival.
On Wednesday night, hundreds of Amenians, mostly young people, held a protest march and rally in front of the Russian embassy in Yerevan, condemning Moscow's weapons deals with Azerbaijan.
Some held portraits of Armenian soldiers killed during the latest escalation in Nagorno-Karabakh by Azerbaijani forces that have recently been armed with modern offensive weapons of Russian make.
The demonstrators first marched past the Armenian government offices and the building of the Ministry of Foreign Affairs, chanting "Shame on you" and criticizing Foreign Minister Edward Nalbandian for inaction. Then, they gathered in front of the Russian embassy, where some of them threw eggs in the direction of the building.
Members of the Armenian public appear particularly angry over the reaction of Moscow to concerns voiced by Armenian officials, including the president and prime minister, over deliveries of modern offensive weaponry to Azerbaijan that has used it against the military and civilian population in Nagorno-Karabakh during the four-day war on April 2-5.
The Russian officials, including Prime Minister Dmitry Medvedev, shrugged off the criticism, stating that by supplying arms to both Armenia and Azerbaijan, Russia maintains a balance in the conflict and stops it from escalating into an all-out war. Besides, Russian officials say that Azerbaijan may get the same weapons, if not even deadlier types, elsewhere as well.
However, some experts in Armenia challenge this explanation. They say that only the United States and France can produce offensive weapons like those sold to Azerbaijan by Russia and these two countries refuse to sell them to Baku. They say that partly such weapons are also produced by China, which is also likely to refuse to supply them to Azerbaijan.
Political analyst Stepan Safaryan, the founding director of the Center for International and Security Affairs, believes that Armenia should continue to voice its complaints against Russia's sales of weapons to Azerbaijan.
"Issues of Azerbaijan's armament, its crimes should become a priority on Armenia's foreign policy agenda and we should achieve a situation in which all countries will understand the dangers and responsibility for selling weapons to Azerbaijan," he said.
Deputy Director of the Yerevan-based Caucasus Institute Sergey Minasyan believes that Russia is able to solve the problem by compensating Armenia with the appropriate amount of weapons, which will restore the balance.
It is remarkable that the armaments purchased by Armenia from Russia under a $200 million loan agreement signed last June have not been shipped to Armenia yet. Meanwhile, Azerbaijan used in the Karabakh clashes earlier this month such deadly weapons as TOS-1A heavy flamethrower systems, for which, according to some Russian media, Baku has not even paid, as well as Smerch heavy multiple rocket launchers.
Only after the resumption of large-scale military operations in Nagorno-Karabakh Armenian Prime Minister Hovik Abrahamyan had a telephone conversation with his Russian counterpart Dmitry Medvedev during which he asked the Russian side to speed up the signing of an agreement on arms supplies.
The issue is also included in the agenda of the Armenian government's upcoming session.