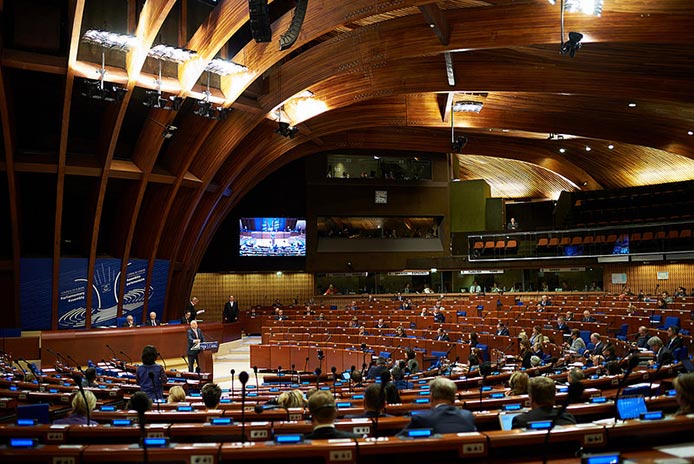 Representatives of the Armenian delegation to the Parliamentary Assembly of the Council of Europe (PACE), criticized the aggressive military actions of Azerbaijan carried out at the Karabakhi-Azerbaijani line of contact, as well as pro-Azerbaijani behavior of some PACE delegation members.
Delegate Naira Zohrabyan touched upon a pro-Azerbaijani statement by PACE President Pedro Agramunt.
"At the moment, when the Azerbaijani armed forces were firing the peaceful settlements, our Assembly President, who is ex-officio obliged to maintain impartiality and neutrality, was encouraging the military criminals in his statement," said Zohrabyan.
Zohrabyan went so far as to say the PACE President behaved himself as [Azerbaijan's President] Ilham Aliyev's spokesperson.
"In the history of PACE it is unprecedented when the Assembly President is involved not in the interests of PACE, but rather the obvious protection of a separate country. After being elected PACE President, paying a first visit to Azerbaijan, Agramunt with that step expressed his next adherence to Aliyev's tyranny. And during the hardest days of the military operations Agramunt makes a statement which obviously encourages Aliyev's murderous regime," she concluded.
Samvel Farmanyan, another representative of the delegation, said that Agramunt's statement came to once again question his impartiality as President of the Assembly and empowered media reports about his alleged engagement in Azerbaijani lobbying structures.
Hermine Naghdalyan, the head of the Armenian delegation, in turn referred to the participation of the Islamic State fighters in the ranks of the Azerbaijani army, adding: "Maybe the presence and guidance of these thugs could explain barbaric acts of violence committed by Azeri forces during four days of war.
"For the moment senseless bloodshed in Nagorno-Karabakh has stopped due to the courage of the people of Nagorno-Karabakh. However, credible fears remain on possible expansion of ISIS to new regions that will definitely bring new wars and tragedies," she said.