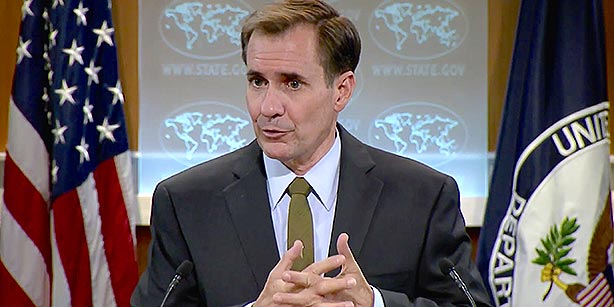 The United States continues to support the Organization for Security and Cooperation in Europe (OSCE) process for a Nagorno-Karabakh settlement, U.S. Department of State spokesperson John Kirby said at a daily press briefing in Washington DC on Thursday.
"We still believe that that's the way forward, that's the best way forward. And as you know, our Minsk Group co-chair, Ambassador [James] Warlick, visited the region with his Russian and French counterparts, making it clear that we want to see a return to negotiations and settlement immediately," Kirby said, as quoted by the U.S. Department of State official website.
"And we remain firmly committed, again, through the OSCE, to working with the sides to reach a lasting peace," he added.
The U.S. official's remarks came amid a visit of Russian Foreign Minister Sergey Lavrov to Armenia apparently focused on the Nagorno-Karabakh settlement process.
Earlier, Russia's Ministry of Foreign Affairs called for resumed negotiations between Armenia and Azerbaijan over Nagorno-Karabakh.
It also said that the 1994-1995 ceasefire agreements were still a basis for truce in the conflict zone.
On April 5, Armenian and Azerbaijani militaries verbally agreed on a cessation of hostilities after four days of heavy fighting that left scores killed and wounded on both sides.