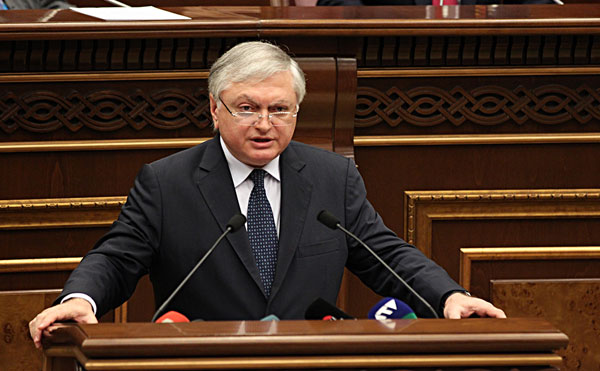 A military assistance agreement with Nagorno-Karabakh is at the stage of drafting, Armenian Foreign Minister Edward Nalbandian told the National Assembly on Wednesday in reply to a question from an opposition lawmaker.
The drafting of such an agreement was ordered by President Serzh Sargsyan still in early April following Azerbaijan's aggression against Nagorno-Karabakh.
Nalbandian, however, did not specify exactly when the bill is going to be ready.
According to the minister, this is not a simple process and needs a fair amount of "expert and other work", which is in progress.
"When this work is completed, when opinions are expressed by relevant institutions and when there is a moment appropriate for concluding such an agreement, then, of course, it will be implemented," said Nalbandian.
To the remark by the opposition lawmaker, Khachatur Kokobelyan, that the "appropriate moment" is now, Nalbandian referred to some "circumstances" in the negotiation process that he said need to be taken into account. He did not elaborate.
As for the negotiation process, the top Armenian diplomat said that holding talks over a conflict settlement in the current conditions of military tensions is hard.
"The efforts of the international community, especially the [OSCE Minsk Group] co-chair countries, together with Armenia's efforts are aimed at excluding the repetition of what happened at the beginning of April. This is what Russian Foreign Minister [Sergey] Lavrov spoke about during his visit [to Yerevan on April 21-22]," Nalbandian said. "It is difficult to conduct any talks under these conditions."
According to the Armenian foreign minister, Azerbaijan will eventually have to return to the negotiating table.
"Azerbaijan's attempt to turn the negotiation tide in its favor has failed," he said. "They will have to return to the talks. There is no conflict or war after which the conflicting parties do not return to the negotiating table to find a solution."