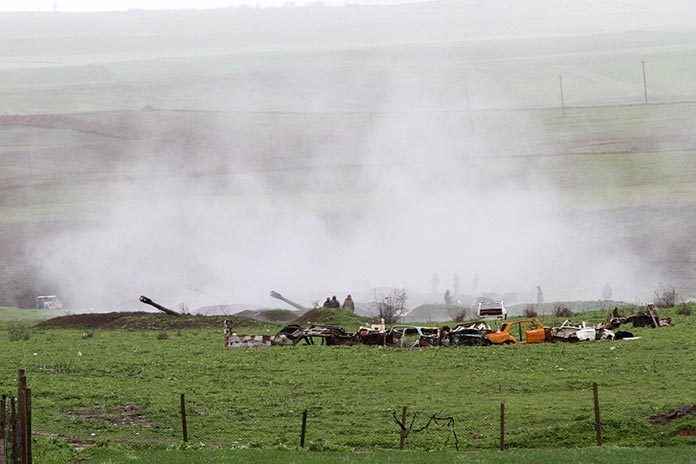 Given the amassment of Azerbaijani troops along the line of contact with Nagorno-Karabakh, military analysts and observers in Armenia do not rule out another offensive by Azerbaijan at any time if it has no constraining circumstances.
Defense Ministry spokesman Artsrun Hovhannisyan said on Tuesday that during the past several days Azerbaijan has deployed more troops near the frontline than before its April 2 attack on Nagorno-Karabakh that triggered a four-day war in which at least 170 soldiers on both sides were killed.
"I cannot give a clear assessment as to what will happen and when. It is difficult to say," Hovhannisyan said, commenting on speculations in Armenian society about a possible new Azerbaijani offensive against Nagorno-Karabakh on May 8-9.
Ordinary people, as well as many analysts and pundits, specifically mention these dates considering that they coincide with the anniversary of the Armenian liberation of the town of Shushi still during the first Karabakh war in 1992.
Commenting on the recent maneuvers of Azerbaijani troops along the heavily militarized line of contact with Nagorno-Karabakh, the Defense Ministry spokesman said: "Troop movements, amassments are, in fact, a constant process. The enemy has been conducting maneuvers all the time." Hovhannisyan added that this is one of the circumstances that makes it difficult to make precise predictions about the possible timing of the attack.
"These movements are in the center of the attention of the reconnaissance units of Nagorno-Karabakh's Defense Army. The adversary's actions are visible and understandable for them. Defense Army units are put on a higher combat alert. The surprise factor is minimized," the military official said.
Journalist and analyst Tatul Hakobyan, who recently returned from the frontlines in Nagorno-Karabakh, believes Azerbaijan is waiting for an opportune moment to strike again.
"If until recently some doubted and were saying that Azerbaijan would not attack, then the four-day war in April showed that Azerbaijan would do that at every opportunity," he told ArmeniaNow.
"It is difficult to say when the moment will be deemed right for them. It could be May 8-9, it could be tonight, it could be in six months' time. This is due to a number of factors," Hakobyan added.
The author of the "Green and Black: The Karabakh Diary" book singles out two main factors – the response of the Armenian side and the reaction of the Russians.
"It is very important what the Russian reaction will be, because Russia's behavior is very important for Azerbaijan. If Azerbaijan is certain that Russia will not interfere in any way, will not interfere for a month, it will attack right away," he said. "Secondly, as soon as the Azerbaijani side feels that the Armenian sides are not vigilant, it will try to strike, and perhaps will do it in an unexpected way. It is not necessary that it be on the frontline, it could be from [the exclave of] Nakhichevan or in the Tavush province of Armenia, wherever they see a weak spot."