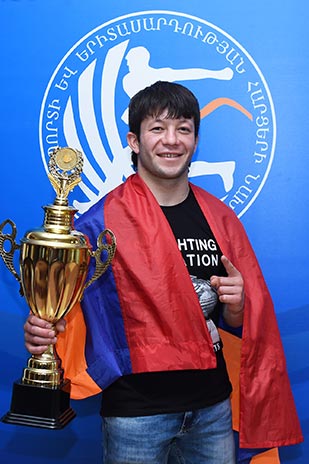 An Armenian mixed martial arts fighter who made headlines last week by dedicating his victory over an Azeri rival to soldiers in Nagorno Karabakh is going to transfer the proceeds from the Moscow bout to the Defense Army.
It took Albert Ghazaryan, 23, less than a minute to make Ruslan Muratazov capitulate in a highly politicized fight at the crowded Luzhniki Sport Hall in the Russian capital over the weekend.
The MMA fight between the Armenian and the Azeri took place only weeks after a fresh outburst of violence in Karabakh triggered by Azerbaijan's aggression against the Armenian-administered region in early April.
About a hundred Armenian soldiers were killed and more than 120 were wounded in the worst fighting since the 1994 ceasefire.
In celebrating his success Ghazaryan brought into the ring a Karabakh flag along with the Armenian tricolor. Dressed in a military fatigue afterwards he delivered a short speech in Armenian, dedicating his victory to the Armenian soldiers "who stand firm at the posts today".
The video of the fight went viral on the internet, with thitherto little-known MMA fighter Ghazaryan instantly becoming famous for his deed.
Wealthy Armenian businessman Gagik Tsarukyan, who heads the National Olympic Committee of Armenia, has presented the young man with a car for his achievement.