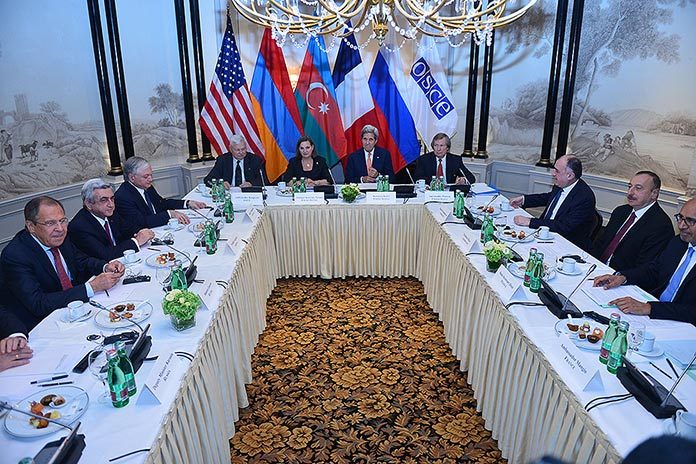 President Serzh Sargsyan of Armenia and President Ilham Aliyev of Azerbaijan agreed to respect ceasefire in Nagorno Karabakh and resume their dialogue to find a compromise peace deal during internationally mediated talks in Vienna, Austria, late on Monday.
The two South Caucasus countries' leaders met for the first time since last month's four-day hostilities in the disputed region that left scores killed and injured on both sides in the worst violence since 1994.
The meeting was co-hosted by United States Secretary of State John Kerry, Russian Foreign Minister Sergey Lavrov and France's State Secretary for Europe Affairs Harlem Desir – the top diplomat of the OSCE Minsk Group co-chair countries.
(Before the meeting the Armenian and Azerbaijani leaders also held separate meetings with Kerry and top European Union diplomat Federica Mogherini.)
After the meeting the top American, Russian and French diplomats said that Sargsyan and Aliyev will meet again in June to try to revive the peace process and reiterated that "there can be no military solution to the conflict."
"The Presidents reiterated their commitment to the ceasefire and the peaceful settlement of the conflict," reads a joint statement issued by Kerry, Lavrov and Desire after the meeting and published on the OSCE official website. "To reduce the risk of further violence, they agreed to finalize in the shortest possible time an OSCE investigative mechanism. The Presidents also agreed to the expansion of the existing Office of the Personal Representative of the OSCE Chairperson in Office."
According to the statement, Sargsyan and Aliyev also agreed on a "next round of talks, to be held in June at a place to be mutually agreed, with an aim to resuming negotiations on a comprehensive settlement."
Finally, the two leaders reportedly agreed to continue the exchange of data on missing persons under the auspices of the International Committee of the Red Cross (ICRC) to which they committed during the Paris summit of October 2014.
Since the escalation in Nagorno Karabakh in early April President Sargsyan presented three preconditions for resuming talks with Azerbaijan: introduction of mechanisms to investigate ceasefire violation incidents; "targeted" statements by international mediators; and guarantees for non-resumption of hostilities.
Azerbaijan has for years effectively rejected internationally proposed confidence-building measures, including mechanisms to reinforce the ceasefire and investigate incidents.
Sargsyan's press office released a report on the meeting late on May 16, saying that "the  Co-chair countries' representatives insisted on the strict implementation of the 1994 truce and 1995 truce-reinforcing agreements."
"Agreement was reached to initiate steps on the introduction of monitoring of their implementation and mechanisms of investigation of incidents, the increase of the possibilities of the personal representative of the OSCE Chairman-in-Office, in the direction of the possible resumption of the negotiating process on conflict settlement," it said.