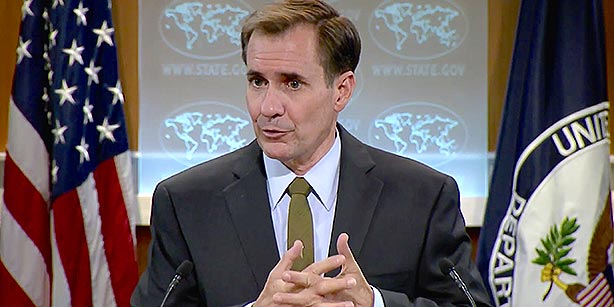 The United States has described the May 16 meeting of the presidents of Armenia and Azerbaijan on the Nagorno Karabakh conflict was "a step in the right direction", praising the two South Caucasus leaders for demonstrating "political will".
During the meeting in Vienna, Austria, organized by the co-chairs of the OSCE Minsk Group, including the United States, Serzh Sargsyan and Ilham Aliyev, agreed to abide by the ceasefire regime and engage in further political dialogue after deadly skirmishes in the conflict zone in early April.
"Both presidents committed themselves to respect the ceasefire, to put in place important confidence-building measures, and to begin negotiations next month that can lead to a comprehensive settlement," John Kirby, a Department of State spokesperson, said during a daily press briefing in Washington, DC, on Tuesday.
"They [Sargsyan and Aliyev] demonstrated what we believe to be political will to move beyond the status quo and to take steps that can benefit all the people in the region. And so as the Secretary made clear, the United States, for our part, will stand ready to assist them in that regard whatever they – in whatever way they can," the official added.
Describing the Sargsyan-Aliyev meeting as "positive" and "a step in the right direction", Kirby added: "And now everybody has to do the hard work of implementing the things that they committed to."