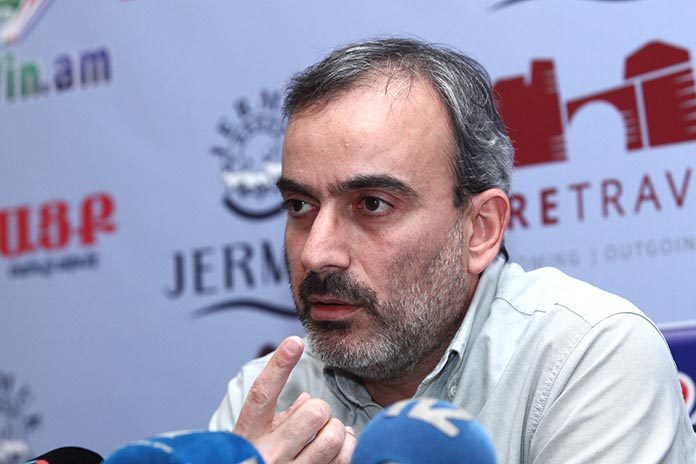 A radical opposition leader, who participated in the 1992-1994 Armenian-Azerbaijani war, says he is ready to "restore the territorial integrity of Nagorno Karabakh" after a rather rhetorical challenge made by President Serzh Sargsyan.
In an interview with media upon returning from the May 16 meeting with his Azerbaijani counterpart Ilham Aliyev in Vienna, Austria, that had been arranged by international mediators to address the latest Karabakh escalation, Sargsyan also spoke about "800 hectares of security zone" that were lost by Armenian forces during the brief hostilities with Azerbaijan in early April.
Earlier, the issue of territories was raised by Sefilian and other opposition hardliners who accused the authorities of trying to hide the real scale of losses.
In a clear reference to Sefilian and his radical opposition New Armenia movement, Sargsyan said: "They sit in Yerevan cafes and draw maps, show routes. I suggest that such people personally go and regain [that land] instead of giving advice to others. One should understand the situation and appreciate the value of meters and human lives. For me our soldiers and officers are much more important."
Sefilian, a Lebanese-born politician who led a company called Shushi during the first Karabakh war, issued a statement today, saying that he and his loyalists who have enlisted for voluntary service are ready to assume military responsibility for "restoring the territorial integrity" of Karabakh, since, as he explained, "the person occupying the post of the Supreme Commander-in-Chief refuses to do that and is not against that others voluntarily take up the military responsibility for that."
In this view, Sefilian called on Armenian citizens, Armenians in Diaspora communities as well as officers and soldiers of the Armenian army to volunteer to accomplish the mission under his command.
During their meeting in Vienna the presidents of Armenia and Azerbaijan agreed to respect the terms of the 1994 ceasefire. No issue of boundaries altered as a result of the April 2-5 hostilities was discussed at the meeting.