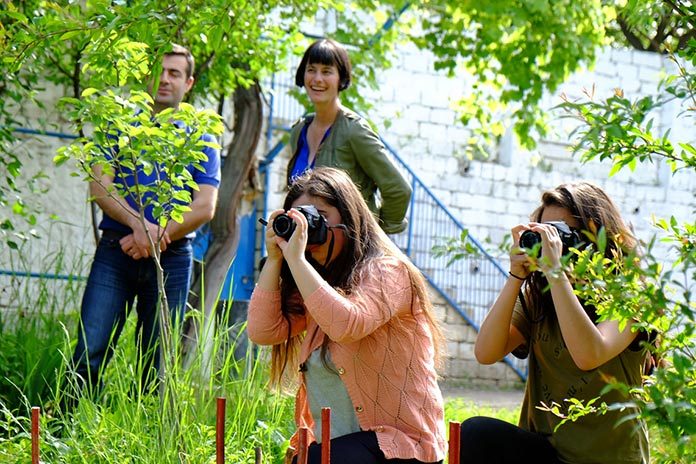 A New York-based photojournalist well known for her photographs of American President Barack Obama during his campaign leading up to his presidency has conducted a workshop for students in Nagorno Karabakh, helping them organize a photo exhibition of their own works.
Photographs by 16 teenagers attending a free-of-charge after-school program in Stepanakert went on display in the capital of the unrecognized republic earlier this week as a vivid proof that despite continuing tensions at the frontlines following April's brief war with Azerbaijan, Nagorno Karabakh has an urge for peaceful life with opportunities for creation.
The boys and girls from Stepanakert's TUMO Center for Creative Technologies depicted life in Karabakh during nine days of their training on May 12-21, with their work including pictures of nature, images of children at schools and education centers, etc. The project also included two journeys – towards the Gandzasar Monastery and the workplace of HALO Trust, a British charity involved in mine clearance in Karabakh.
It was through cooperation between HALO Trust and the Stepanakert-based TUMO Center that it became possible to organize a workshop conducted by Scout Tufankjian, an Armenian-American photojournalist, who covered in 2006-2008 Senator Obama's campaign for President of the United States and, in fact, was the only independent journalist to follow him from the run up to his announcing his candidacy through his victory on election night.
Tufankjian has been visiting Karabakh for the seventh time, but it was her first experience with teenagers. She began cooperation with HALO Trust in March of this year – shortly before the April 2-5 outbreak of violence in the Karabakh conflict zone – and it was at that time that she was offered to continue to tell through photography how the organization is demining territories in Karabakh to make living safe for civilians.
"I taught in Tumo Yerevan and I was really excited when they opened Tumo Stepanakert since these are really my two favorite things – Karabakh and Tumo. HALO mentioned once about willingness partnering to Tumo, so it happened," Tufankjian told ArmeniaNow.
"Karabakh is the most beautiful place in the world. Everything is amazing. I have been in more than 20 communities where Armenians live, but Karabakh is really a special place. Also, my family background is Musalertsi [ed: Musaler in Turkey], so I feel the most comfortable when I am in the mountains. I feel really at home here, which is important to me."
At the exhibition each of the young boys and girls presented their own works, presenting as to what they wanted to tell through their pictures, why and how they did that through the language of photography.
Ani Avanesyan worked at Stepanakert's Children's and Youth Center, photographing what children attending it were doing.
Aspram Mayilyan's works tell that despite war, life goes on in Karabakh. According Tufankjian, although the children photographed almost the same things or chose similar subjects, each of them had seen and reproduced the reality their own way.
"It was interesting to participate and get answers to all our questions," said Levon Asmarian, one of the participants of the workshop, whose family fled the war in Syria and settled down in Karabakh a few years ago.
Stepanakert's TUMO, which is operating also with assistance from the Armenian General Benevolent Union (AGBU), officially opened its doors last September. Within a month the center had 600 applications from children aged 12-18 willing to study there. Now the number of TUMO students is over 1,000. They are mainly from Stepanakert, but there are also children coming from Shushi, Askeran and even from the Martakert and Martuni districts.
Courtesy Photo: TUMO Center for Creative Technologies
This free-of-charge after-school study center teaches animation, filmmaking, game development, web development. It develops programming skills, painting, music, robotics, photography, etc., which gives children an opportunity to choose directions in which they want to get specialized in particular. Children at Tumo can do exercises by themselves and then with a coach's help or guidance. The courses that have three levels are conducted by trainers from Yerevan. Workshops are another format and these workshops are conducted by experts from abroad. Stepanakert's TUMO has so far conducted 20 courses and 3 workshops, the latest being Tufankjian's.
"I think Stepanakert's Tumo is extremely important. I come from Paris. I have a lot of work, but I delayed everything and came here. Especially in this region we try to teach children a number of principles – self-teaching, group work. We try to open up their horizons," Stepanakert TUMO head Korioun Khatchadourian told ArmeniaNow.
"Seeing Artsakh [Karabakh] as a bit isolated place, I think it is very important for children to know what is going on in the world, know what professions there are, pursue what they like or dream about. This is what I tell those who come to register for our courses – you come here to chase your dream and not to follow standard, predetermined, prejudiced patterns," he added.
The children who have worked with Tufankjian say the experience is rewarding by itself, but the first major achievement in photography for some of them would be having their works selected for display as part of the renowned photojournalist's exhibitions to be held in the United States and Europe.