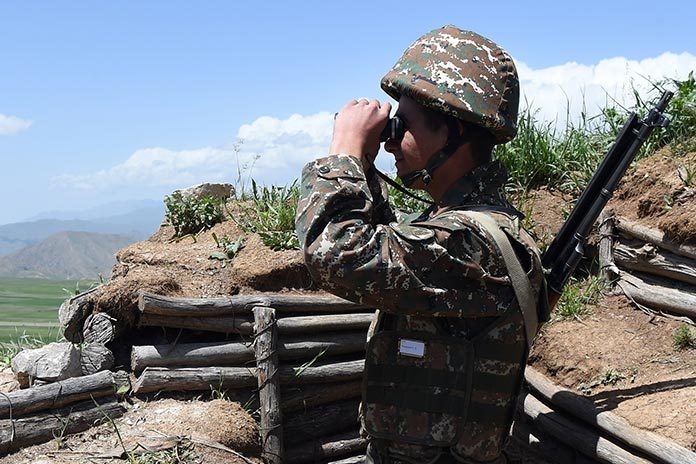 Leading representatives of Armenia's largest ethnic minority, Yazidis, have emphasized the allegiance of their people to the Republic of Armenia as they spoke about the contribution they have made to the Armenian nation's defenses in last month's brief war against Azerbaijan in Nagorno Karabakh.
With their number estimated at a little more than 35,000, Yazidis are considered to be the largest ethnic and religious minority in a 3-million-strong mono-ethnic Armenia.
Most of them are descendants of refugees who came to the Russian-held parts of Armenia during persecutions in Ottoman Turkey at the beginning of last century.
Mostly loyal to ruling regimes, Yazidis in Armenia have admittedly enjoyed freedom of religion and non-interference in their cultural traditions, at the same time being well integrated into the Armenian society. They mostly live compactly in about two dozen villages in central Armenia's province of Aragatsotn, as well as in several villages of the Armavir and Ararat provinces.
Bro Hasanyan, a Yerkrapah [Land Defender] volunteer representing the ethnic Yazidi community in Armenia, says that more than five dozen Yazidis were involved in frontline battles after an Azerbaijani offensive against Karabakh on April 2.
Among the hundred or so Armenian soldiers who were killed in the four-day clashes that ensued were also five ethnic Yazidis. One of them, Kyaram Sloyan, reportedly disobeyed his commander's order to retreat along with other soldiers of his company and stayed alongside him to repulse an overwhelming Azeri attack. Sloyan, whose body was later controversially decapitated by the Azeri military and whose severed head was paraded in Azeri villages amid an Armenian public outcry, was posthumously awarded a medal "For Service in Battle". A class at the school of the soldier's native village of Artashavan, in Armenia's Aragatsotn province, was named after Sloyan.
"We mourn the deaths of the soldiers… And for the blood spilled by both Armenians and Yazidis we must take a thousand enemy lives," says Hasanyan.
Aziz Tamoyan, the head of the ethnic Yazidi community in Armenia, stresses that their people today cannot remain indifferent to the Karabakh problem. He believes that Azerbaijani President Ilham Aliyev must be condemned internationally for breaking the truce agreement and unleashing hostilities in Karabakh.
"It is clear to all that Karabakh historically belongs to the Armenian people. Aliyev cannot achieve anything with these attacks besides hurting people," Tamoyan says.
With reporting by Alina Nikoghosyan