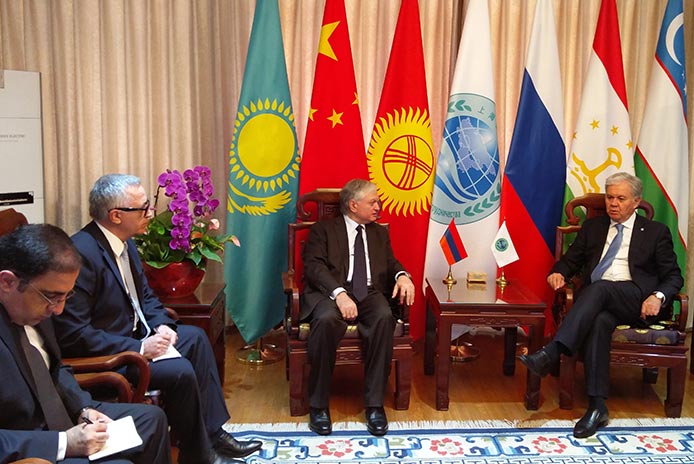 Armenian Foreign Minister Edward Nalbandian and the Shanghai Cooperation Organization's (SCO) Secretary General Rashid Alimov late last week signed a memorandum of understanding to give Armenia a "dialogue partner" status within the Organization.
Established in 2001, the SCO has six member states – China, Kazakhstan, Kyrgyzstan, Russia, Tajikistan and Uzbekistan.
In a speech at the ceremony in Beijing on Friday, Armenia's top diplomat highlighted the importance of the country's cooperation with the SCO, describing it as a key platform for developing a dialogue.
Nalbandian highlighted the importance of the document for cooperation in promoting regional security and stability, joint anti-terrorism efforts, and fight against drug-trafficking and transnational organized crime, the Armenian Foreign Ministry's press service reported.
The minister further emphasized the importance of the deal as a key legal basis for developing multi-lateral cooperation in the areas of trade and investments, energy, transport and telecommunication between Armenia and the SCO member states.
For his part, attaching importance to the new status of Armenia at the SCO, the organization's Secretary General Alimov said it was nice embracing in the SCO family a country like Armenia that has such an ancient history.
The sides reportedly agreed that the new partnership relations will mark a new phase for developing the mutual ties and opening prospects for deepening cooperation.