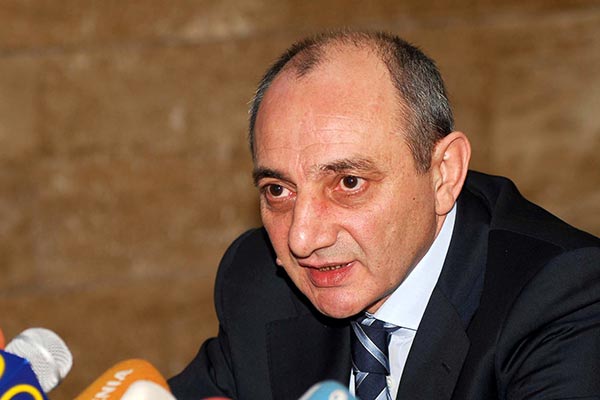 Nagorno Karabakh Republic President Bako Sahakyan has issued a statement, in which he described the incident in which an opposition lawmaker was beaten up a "direct blow against NKR's statehood".
Karabakh MP Hayk Khanumyan was hospitalized in Stepanakert on Monday with a broken nose, cheekbone and ribs hours after announcing the launch of a campaign for former Karabakh military commander Samvel Babayan to be appointed defense minister.
Babayan returned from de-facto exile in Russia in May and traveled to Stepanakert over the weekend. Khanumyan accompanied him during his Sunday public appearance in one of the town's squares to where hundreds of residents had come to greet him. The former strongman downplayed his political ambitions, however.
Parliamentarians in Karabakh condemned the beating of Khanumyan, but stopped short of alleging political motives behind it.
In his statement President Sahakyan said: "I consider unacceptable the incident that occurred to National Assembly member Hayk Khanumyan… I strongly condemn any act of violence against a person and a citizen. Violence against the NKR National Assembly deputy, political figure gives additional cause of concern.
"This incident was a direct blow to the Artsakh Republic's statehood, democracy and values shared by us. I am in a constant contact with the law-enforcement structures agencies, I am aware of the course of investigation. The process is under my immediate control and I give assurances that the necessary measures are being taken by law-enforcement authorities to determine all the circumstances of the incident."
At the same time, the Karabakh president called on everyone to "refrain from unjustified assessments and commentaries before the final results of the investigation."
"All details concerning the investigation process will be presented to the public in accordance with the procedures and time frames set by the law. I also keep in touch with the minister of health, I am regularly informed on the health condition of Mr. Khanumyan and wish him a speedy recovery," Sahakyan concluded.