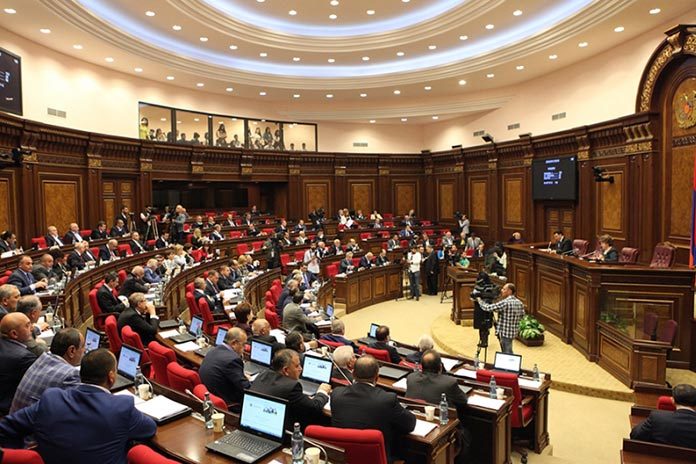 The discussions over the draft Electoral Code held among government, opposition and civil society representatives in the so-called 4+4+4 format, according to opposition members, ended without results. The opposition Armenian National Congress (ANC) party stated at the National Assembly on Monday that it suspended its participation in further discussions.
After weeks of discussions the new electoral bill was introduced in parliament and was included in the current session's agenda. The bill was presented in Parliament by Minister-Chief of Government Staff David Harutyunyan.
ANC parliamentary leader Levon Zurabyan said: "Discussions in different formats over the draft Electoral Code did not give results, consensus did not take place, because the authorities rejected the joint proposals of the opposition and civil society."
He suggested that discussions on the draft Electoral Code be postponed considering the fact that "there is an external aggression against Karabakh and Armenia, and discussions on this issue could create inevitable tensions around this issue."
Deputy Parliament Speaker Eduard Sharmazanov expressed regret that no consensus was reached during the discussions and did not rule out that it would be reached during the parliamentary debate and adoption of the bill in the first and second readings.
"We are ready to discuss the issue. We also need to distinguish between compromises and ultimatums. As for your proposal, the National Assembly should continue its work anyway," Sharmazanov, a senior member of the ruling Republican Party of Armenia, said.
After that, Zurabyan stated that they were suspending their participation in the discussions of the draft Electoral Code.
Naira Zohrabyan, the head of the second largest parliamentary faction, Prosperous Armenia, and leader of the party, also said that discussions in the 4+4+4 format failed to produce any result. But she said her faction would not suspend its participation in the further debate.
Earlier, representatives of the government signaled willingness to reach a compromise solution on at least two of the five points raised by the opposition, in particular, on the demand for post-election publication of signed voter lists and verification of identities of voters to avoid multiple ballots. The opposition appears to have dismissed the government's approaches as inadequate.