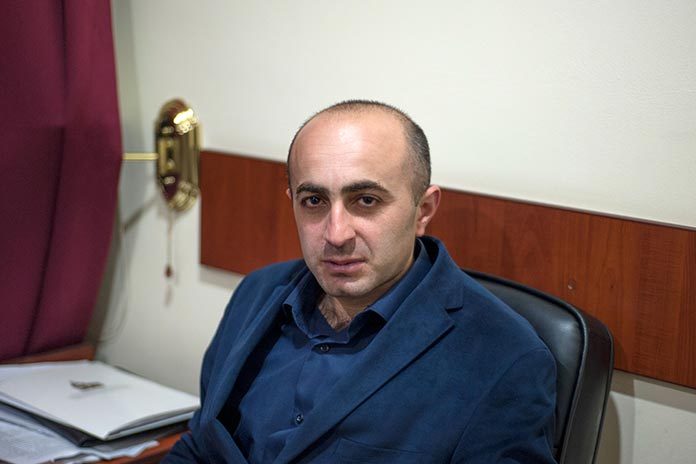 Hayk Khanumyan, the head of the opposition National Rebirth faction in the Nagorno Karabakh Republic's National Assembly and chairman of the party, has been beaten up and was hospitalized in capital Stepanakert.
The NKR MP, who has suffered a broken nose, cheekbone and ribs, wrote on his Facebook account that after being beaten he was forced to put a sign under a note written by him which would cease his political activities and make him leave Karabakh.
"I want to say that signing a piece of paper and shooting a video were a tactical move to get rid of the hands of the lawlessness, especially, when they had already broken my ribs, my nose, the cheekbone, etc. The video and the paper are of no value themselves, as they were done while I was in severe pain and under threats. I won't leave Karabakh. My main goal is that Artsakh becomes a factor, protected and no one is able to turn its fate into a subject of bargain. I know seven of those who beat me, and my friends are checking their details, which will later be handed to other friends of mine," wrote Khanumyan.
NKR's former defense minister Lieutenant-General Samvel Babayan, who returned from de-facto exile in Russia last month in the wake of Karabakh's brief war with Azerbaijan, served as the commander of Karabakh's armed forces in 1993-2000. Khanumyan previously announced through his Facebook account that organizational work for an assembly to push for Babayan's appointment as defense minister would be launched.
Khanumyan's relatives said that the incident occurred in the central square of Stepanakert. According to them, moments after he left the parliament building in Stepanakert several men wearing military uniforms forced him into their car. The areas adjacent to the National Assembly and a nearby hotel are monitored through cameras.
David Babayan, the NKR presidential press secretary, told media yesterday that Khanumyan's behavior would one day lead to such phenomena, because he has constantly been provoking the public, his colleagues, and insulting people.
"I do not think this is a political issue: this is a result of personal behavior and character," said Babayan.
Yesterday, after visiting Khanumyan at the hospital, Babayan told media that people in Karabakh have been subjected to violence for over 16 years to prevent the expression of free speech.
"He was directly told, and the written paper was given to him to have discrediting evidence against him and hence to keep his mouth shut. But if a person wants to express himself, no one can forbid him: it is his right. However, I am not a dictator to prohibit people who support me," said Babayan.
NKR Ombudsman Ruben Melikyan issued a statement, strongly condemning any act of violence against the MP in anticipation of law-enforcement agencies' full, impartial and thorough investigation.
Given the status of Khanumyan, the Ombudsman particularly underscored the importance to properly notify the public about the results of the investigation.
NKR parliamentary factions also issued a statement, saying that it was an unacceptable act towards the parliament member, and it is a serious blow to democratic principles formed in Karabakh.
Stepan Danielyan, the head of the Partnership for Democracy NGO, wrote on his Facebook account: "By one act of beating Artsakh stepped into a very serious legal crisis. This a total lack of statehood and legal thinking."