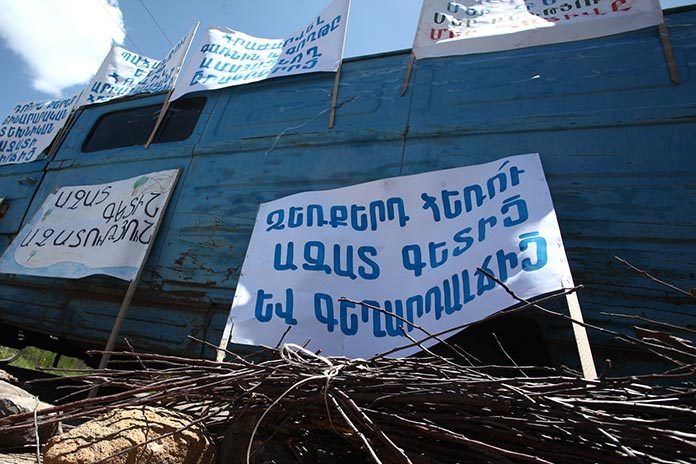 Residents of the village of Goght in the Kotayk province of Armenia have kept the road to their village closed for a few hours, thus expressing their protest and disagreement with the government program, under which the Gegardalich water reservoir near the village is to be given to several villages after reconstruction.
According to the protesting villagers, even when filled up, the water in the lake is not enough to irrigate the lands of Goght.
Residents of Goght say that the 2.4 million cubic meters of water that Geghardalich currently contains, when it is filled up, is not enough for more than 500 hectares of Goght lands that are actually used. They do not believe that, according to the program, in case of adding one million cubic meters of water it will be possible to provide several villages with irrigation water.
Villagers demand that the construction be stopped, and the communities that are included in the government program be provided with water by building a second reservoir.
According to Vachik Sahakyan, the project's chief engineer, however, this reconstruction works are in the interest of the residents of Goght. "We have estimated by the current laws in Armenia that the water will be enough for the lands of Goght."
"The reservoir is in an accident-prone state and [its walls] will be raised in order to avoid any losses. It is being reconstructed for 1,440 hectares of land. The reservoir's capacity will become 4.43 million cubic meters," says Sahakyan.
Last month, residents of Garni, another village in the Kotayk province, succeeded in their campaign as Prime Minister Hovik Abrahamyan canceled a controversial plan to use part of water from the Azat River to irrigate 12 villages of the Ararat province.
Hundreds of Garni villagers regularly blocked a road leading to one of Armenia's tourist attractions, a 1st-century pagan temple of Garni. Goght residents have closed the road to the Geghard church complex, which is another favorite place for tourists in Armenia.