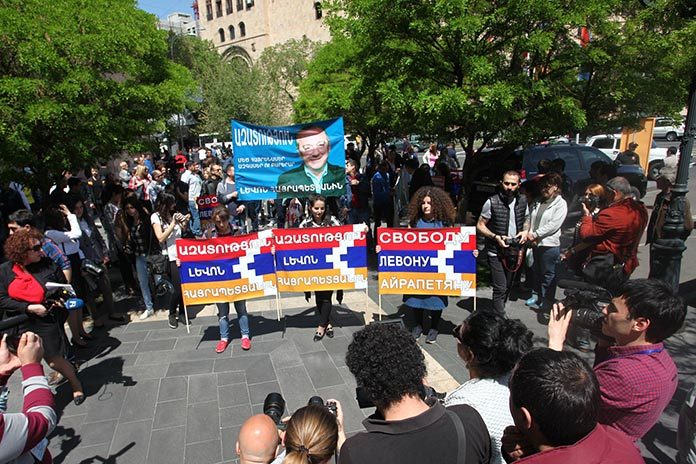 Activists in Armenia staging protests in support of a Russian-Armenian businessman jailed in Moscow believe the conviction and imprisonment of the Karabakh native who has vastly contributed to his homeland's rebuilding has political goals as they see Azerbaijan's hand behind it.
Participants in Tuesday's march in Yerevan demanding "Freedom to Levon Hayrapetyan", meanwhile, pledged to do everything to get the release of the 67-year-old ailing businessman and philanthropists who has spent millions of dollars on the development of Nagorno-Karabakh in recent years.
"During these days when Artsakh (Nagorno-Karabakh) more than ever needs the benefactor, unfortunately he has been jailed. The entire Armenian nation demands the release of the philanthropist," said the activists, who staged rallies in front of the buildings of the Armenian Ministry of Foreign Affairs and the Russian Federation's Embassy in Yerevan on Tuesday.
They demanded that Armenian diplomats immediately get in touch with their colleagues in Russia on the plight of Hayrapetyan, who, after being convicted on fraud charges and sentenced to four years in prison, is now placed in a cell where "inmates sleep by shifts."
Hayrapetyan, who is known to have made investments and carried out a number of charity programs for Nagorno-Karabakh, including the 2008 "big wedding" when about 700 Karabakh couples got married and had their wedding parties with the assistance of the philanthropist, suffers from cancer, had four infarctions and two strokes and other health problems. He was first arrested in 2014, but in about a year his lawyers managed to get him placed under house arrest pending the investigation and trial. On April 14, Hayrapetyan was convicted on fraud charges and sentenced to four years in prison. He has denied defrauding the mother of Russian ex-senator Igor Izmestyev of $700,000.
Izmestyev had also testified that Hayrapetyan had been involved in an illegal transaction on the sale of the Bashneft company shares to AFK Sistema in 2009. Investigation in this case is still underway.
Anahit Bakhshyan, a member of the Yerevan Council of Elders, who says she participated in yesterday's march as a citizen, believes that it is necessary to state with similar actions that by imprisoning Hayrapetyan Russia simply wants to violate the national dignity of Armenians.
"Russia's authoritarian government has made a decision to jail Hayrapetyan in order to again, as it believes, weaken Artsakh's defense. But in prison Levon [Hayrapetyan] is doing more for Artsakh than many at large. Today's action is a wake-up call for our society," she said.
Lawyer Haykaz Makaryan said Russia's Azeri community has made great efforts to get Hayrapetyan put in prison as the businessman has been doing everything to help to Artsakh.
"I think that Russia's pro-Azeri forces have also been involved," he added.