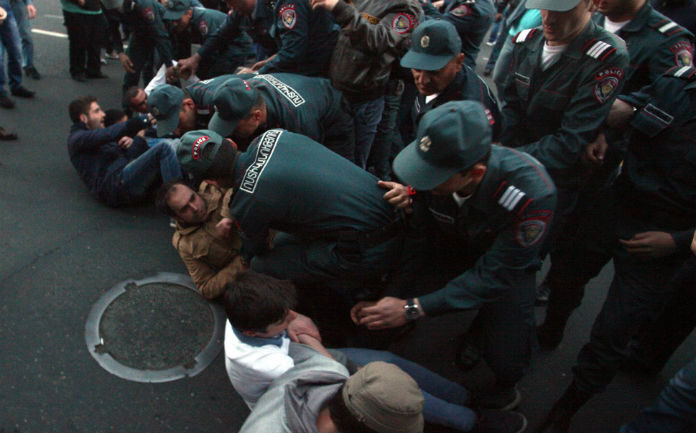 The Armenian Police have disproved media reports claiming that a number of journalists covering last night's protests in central Yerevan were detained or taken to police stations.
More than four dozen people were briefly detained near Baghramyan Avenue late on Friday when activists from the "We Are the Owners of Our Country" civic initiative tried to march towards the president's office demanding a hard line on the Karabakh issue, in particular, no territorial concessions to Azerbaijan, as well as "the return to the state budget of funds plundered and transferred to offshore accounts abroad."
The protesters were met with a police cordon that blocked their movement and after some scuffles used force to disperse and end the protest. A total of 42 people were detained.
"No media representative was subjected to administrative arrest or detention, simply movement in the protest venue was briefly restricted," the Police explained in a statement today.
"In connection with the incident the chief of police has ordered an internal probe… Besides, the chief of police has instructed that a meeting with media representatives be organized in the near future to discuss a mechanism of excluding such situations," it added.