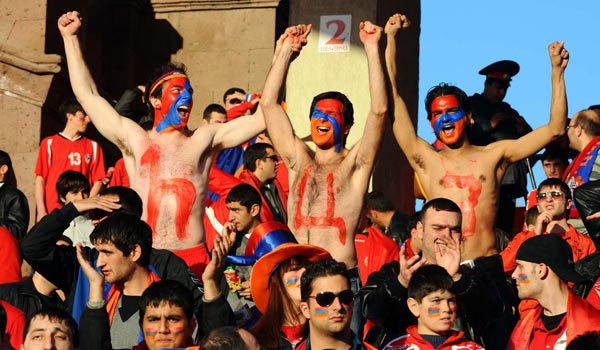 The latest victories in friendly games by Armenia's national soccer team have raised expectations and hopes among local fans for significant progress in upcoming official matches, but a specialist says it is too early to jump to conclusions given the strength of the Havakakan's latest competitors.
Under their new head coach Varuzhan Sukiasyan, who was appointed after a failed Euro-2016 qualifying campaign last December, Armenia ended their winless run of 15 games to score a 7-1 victory over Guatemala in a game played in front of many Diaspora Armenians in Los Angeles, USA, on May 28. And on June 1, again in LA, Armenia beat another Central American rival, El Salvador, 4-0.
Borussia Dortmund's attacking midfielder Henrikh Mkhitaryan set the pace for the team in both games, scoring a hat-trick against the Guatemalans – the first in the history of the national team that never before scored more than four goals in one game. However, the new coach also tested a number of newcomers who also distinguished themselves with performance and goals in the two games.
For Menua Mehrabyan, a soccer specialist and TV commentator, the kind of results are not yet enough to make conclusions about a drastic improvement in the national team's performance.
"It is good when there are many goals and great victories, but to be realistic, one should admit that Guatemala and El Salvador are not as strong as Romania, Poland, Denmark or Montenegro [Armenia's main rivals in the upcoming 2018 FIFA World Cup qualifying]," he said.
According to the soccer expert, the two victories can be considered as a successful start of the preparations for the upcoming tournament. "But there is still huge work ahead to be able to stage good performance in the qualifying games," he warned.
According to Mehrabyan, the Los Angeles matches did not reveal any impressive tactical solutions or any distinct coaching foretelling yet. What they did reveal, however, is that several newcomers have found their places in the team, which "gives a hope for a new generation of players," he added.
Armenia's soccer authorities have been criticized for their decision to effectively expel several players from the team over their purported lack of commitment to national duty. Among the expelled players was Armenian-American Yura Movsisyan, who was considered the team's best forward.
While not considered to be strong sides internationally, both Guatemala and El Salvador are currently ranked higher than Armenia on the FIFA list of 200 or so nations – 89th and 98th, respectively, as compared to Armenia's 110th  position.
In the wake of their team's 1-7 loss to Armenia, flatteringly for the Havakakan, some Guatemalan media compared it to Germany's demolition of Brazil in the 2014 FIFA World Cup semifinal.